The long-standing tiff between Google and Amazon over streaming service has finally drawn to a close. Starting today, July 10th, YouTube will be supported by Amazon's second-generation Fire TV Stick, their Fire TV Stick 4K, the Fire TV Cube, Fire TV Stick Basic Edition and Fire TV Edition smart TVs and all its hardware in the future. Later this year, YouTube TV (@ YouTube) and YouTube Kids will also come to Amazon Fire TV. On Google, both its own Chromecast devices, as well as partner TVs and hardware that support Chromecast built-in, or that run Android  TV, will gain support broadly for Prime Video.
A huge buzz was created on social media around this association which spiked conversation volumes to more than 2K. Google's official notification through Twitter was reposted the most bringing in the highest engagement.
Few industry experts spoke about the technical details of the new tie-up while others commented on the technical issues they were facing while connecting. While few netizens mentioned the benefits of this association for the customers, others talked about the ability of Chromecast Ultra owners to now access Prime Video's 4,000-title library, normally reserved for Prime members, at no additional cost.
Social Media Sites Usage Over the Date of Announcement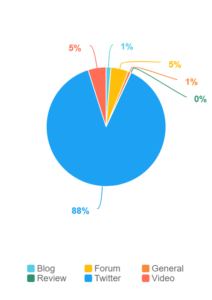 July 9, 2019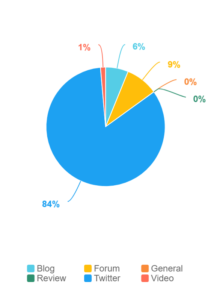 July 10, 2019
People exclaimed that the new association would open up the door to a library of diverse content including music, gaming, and content from the favorite YouTube Creators. Online publications like TechCrunch (@TechCrunch), Mashable (@mashable), The Verge (@verge), etc. also helped retain the attention on this news.