Hershey's has teamed up with Yuengling, one of the oldest #breweries of #America, for another chocolate delicacy, this time for a more matured #customer base. The #new #collaborative efforts are aimed at offering people #chocolate #beer, a new entrant into the category of brewed #beverages. The Yuengling Hershey's Chocolate Porter, as the chocolate beverage is christened, will be a sugary version of Yuengling's dark-brewed porter beer variants. The brewing company claims that the drink would pair well with cheese and smoky barbeque.
Given the fact that the alcohol content in this new beverage is around 4.7%, the customers below legal drinking age will have to stick to hot chocolate for now!
#Socialmedia platforms were kept busy as large number of beverage enthusiasts voiced their excitement about #Hersheys new #chocolatebeer.
VoC Analysis
Our #VoiceofCustomer #Analysis identified the following trends in the social media discussions:
Foodies showed excitement about the new chocolate beer and wanted to try it out.
Few were seen appreciating the collaboration between the two big #Pennsylvanian companies.
Some people were also seen asking if this would also be taxed under the new craft beer tax.
Many were aligning their taste preferences more with chocolate than with beer. But when both were combined and presented in the drink, they were excited to try out it out.
Voice of Customer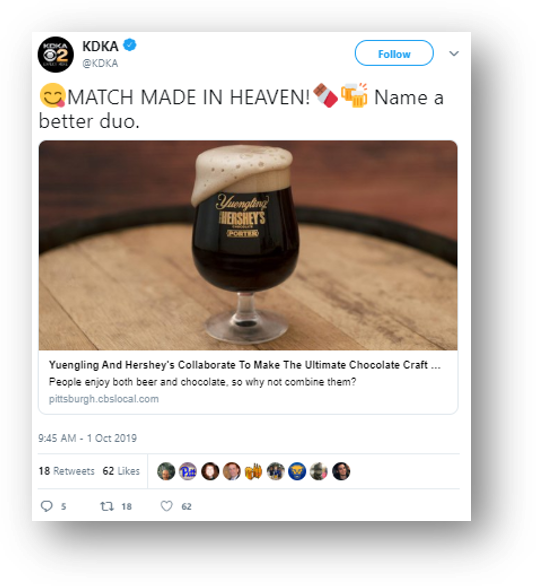 Audience Demographics
Our gender conversation analysis threw up insightful numbers. Men (76%) contributed greater to the social media conversation about #chocolate #beer as opposed to women (24%).
Gender Breakdown

This reinstated age-old beliefs that beer is a go-to drink for men, be it a casual, formal, or social gathering. Women, on the other hand, are traditionally found to draw less comfort from alcoholic beverages like beer.
Men were mostly found to voice their interest to try out the chocolate beer. Some were found stating that they want to take their families for a treat on the weekends and try out the new chocolate beer.
Profession Analysis
Our social media analysis revealed more about the professional inclinations of the buzz drivers on social media.
Professional Inclinations of Buzz Drivers

It was observed that Journalist were the most interested lot, who were strikingly vocal about Hershey's new venture. This was followed by people who had a vocation in Art and Aesthetics or were professional Artists (21%). Corporate Executives (13%) and Sales and Marketing (11%) professionals were also seen engaging with various aspects of the story.
Trending Hashtags
#beer, #hersheypa, #Yuengling, #chocolate, #pabeer, etc. were found to be the trending hashtags around the story.
Keywords
Hershey's, Hershey's Offer, Hershey's collaboration, Hershey's tie up with Yuengling, Yuengling brewery, Chocolate beer, Hershey's chocolate beer, Oldest Brewery, Pennsylvania, The Yuengling Hershey's Chocolate Porter, Yuengling Hershey's Chocolate Porter, Yuengling Hershey porter, Yuengling Hershey beer, Yuengling and Hershey, Infused Beer, Chocolate infused Beer, First-Ever Yuengling Hershey's Chocolate Porter, yuengling brewery, yuengling beer online, yuengling beer ingredients, yuengling golden pilsner, hershey's chocolate beer
==============================================================================
Short Description
The Yuengling Hershey's Chocolate Porter became a hot topic of discussion on social media.
Men (76%) contributed greater to the social media conversation about #chocolate #beer as opposed to women (24%).
Journalists were the most vocal group on social media about the chocolate beer.