Impossible Foods, a company that develops #plantbased #substitutes for #meat products, has been granted approval by the US Food and Drug Administration (FDA). The meat look-alike has been given a green signal to hit the grocery store aisles, after a long-awaited FDA approval.
A general argument is that the approval was not coming through due to #heme, a key color ingredient used in the bleeding plant-based burgers. Up until now, Impossible Foods' (@ImpossibleFoods) fake-meat patties had a limited reach, being available primarily through #partnership based restaurants.
The approval announcement has sparked 500+ conversations on #socialmedia within the first 24hrs. A significant proportion of fandom was found discussing about the commercial availability of Impossible Foods products from September.
Industry experts were found discussing about FDA (@US_FDA) amending its rules to call the use of soy leghemoglobin as a color additive in imitation beef safe. Netizens were also comparing Impossible Foods' products with its competitor, Beyond Meat.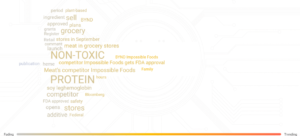 CNBC, Bloomberg TicToc , Engadget, Eater etc. were some of the top tweeters.