The National Aeronautics and Space Administration (NASA) is set to create history. Months after cancelling the plan earlier this year, #NASA has announced its first all-female spacewalk will take place on Friday, October 18, 2019.
According to NASA, astronauts Christina Koch and Jessica Meir will travel outside the space station to replace the faulty battery charge-discharge unit (BCDU).
The #spacemission, which will soon be a part of history, was welcomed by the social media community with great applause. The news announcement sparked volumes of 5K+ conversations within the first 24 hours on social media.
Virality Analysis
Tweet by Ivanka Trump, sharing the link to watch the live telecast, went viral and garnered a total engagement of more than 7K.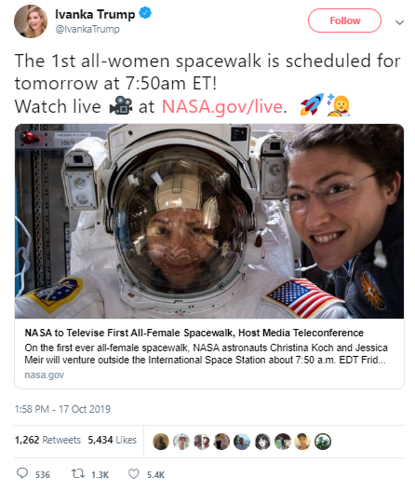 A large number of people wished them luck with their endeavors. Most of the people were found sharing the history of space missions done by women.
NASA's tweet from its official handle, sharing the preview of the upcoming event, was shared by a large number of audience.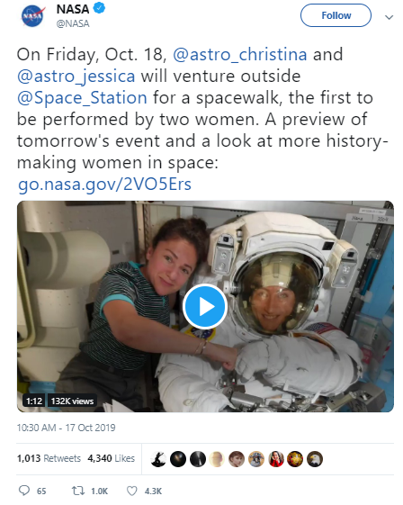 Conversation Analysis
Our conversation analysis revealed that the major themes dominating the #socialmedia conversations were:
New history making endeavor of space mission
#Spacewalk mission
Time of the event
Live telecast of the events
Achievements of #astronauts
A large number of people congratulated Christina Koch (@Astro_Christina) and Jessica Meir (@Astro_Jessica) on their upcoming mission. Many people expressed their excitement that the first all-female spacewalk in NASA's history is finally going to happen. Some shared that till date, women participation in the spacewalks have always been accompanied by men.
Trending Hashtags
#Spacewalk, #girlscout, #nasa, #allwomenspacewalk, etc. were identified as the most used hashtags surrounding the #NASAmission.
Gender Demographics
Our Demographic Analysis found that women were predominantly vocal about the news. Women contributed 56% to the social media conversations whereas men contributed 44%. This shows that NASA's all-female spacewalk resonated a great deal with the women while men played the role of a great supporting anchor.
On a broader scale, women were found speaking about:
NASA's first all-female spacewalk
Live watching of the event
NASA's astronauts etc
Thematic Gender Conversation Split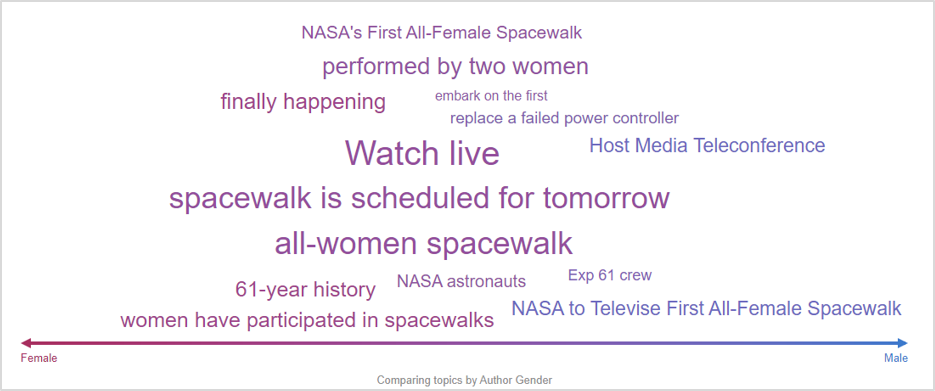 A deep dive analysis further revealed that men and women spoke about different themes pertaining to the space mission. While men were found discussing mostly about, 'NASA to Televise First All-Female Spacewalk", "Host Media Teleconference", women were found conversing about topics like, "women have participated in spacewalks", "61-year history", "spacewalk is scheduled for tomorrow" and other similar topics. "Watch Live", "NASA's First All-Female Spacewalk", "Performed by two women", were identified to be the gender-neutral themes around which conversations on social media swelled.
Virality Drivers
Top posts which became viral included the post from NPR, NASA, International Space Station (ISS), Girls Scouts, etc.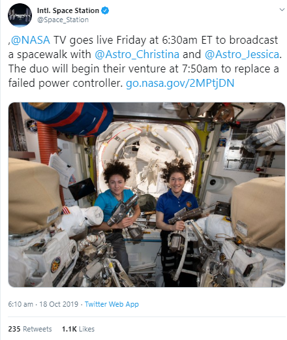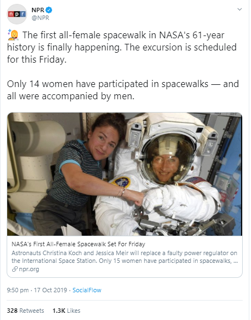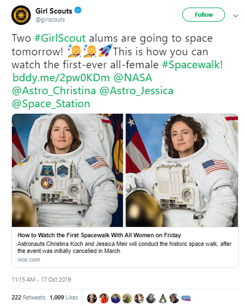 Top Resources Spreading the News
Our social media analysis revealed that the top news authors who contributed to a surge in conversation volumes included, NASA_Johnson, Space station, CNBC etc.
Johnson Space center (NASA_Johnson) shared the details of the space mission and also at the same time spoke about the history of the NASA's space missions. NASA is further planning to send first woman to the moon by 2024. World's premier space agency has recently unveiled prototypes of the new spacesuits that will be used on this mission.