Tyson Foods, Inc, one of the world's largest processors and marketers of chicken, beef, and pork, has forayed into the #meat #replacement #market with its Raised & Rooted brand and the new plant-based nuggets. @TysonFood is carving out a different path for itself by introducing food to consumers that are blended with meat and protein replacements.
The launch of the new nuggets led to a surge in conversation volumes, in the order of more than 300+ conversation, within a very short span of time. Food lovers and major news channels like MarketWatch (@MarketWatch), CNBC (@CNBC), USA TODAY Money (@USATODAYmoney), etc. have retweeted the news, adding to the excitement and thereby creating substantial traction around it.
Buzz Drivers For Blended Burger Launch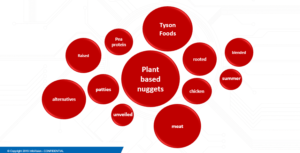 Social media community has welcomed the new plan of Tyson Foods with great applause. Food lovers were quick to point out that the nuggets provide 5 grams of fiber per serving. A few also put forward the observation that Tyson has developed Raised & Rooted plant-based nuggets & blended burgers in less than 1 year's time. Some industry experts touted this as healthier than the other competing plant-based-only patties.
A large number of conversations were also seen around the rebranding of #TysonFoods. A few industry experts also spoke about the ingredients involved in the making of these new #nuggets. Experts noted that shares of Tyson Foods rallied at 1.7% in premarket trade on Thursday, after the announcement. Twitter was the most dominant social media platform contributing for almost 95% of the conversations.