During the #SuperBowl, T-Mobile had partnered with Taco Bell to give away free #tacos through its #TMobileTuesdays promotion. Now, the companies are taking the partnership one step further by opening T-MoBell stores in #LosAngeles, #NewYork, and #Chicago from July 23 to 25.
Social Media Buzz Drivers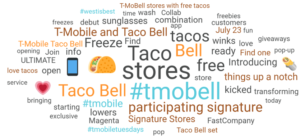 The #partnership news triggered more than 1k conversations on #socialmedia within 24 hours. #Foodies expressed their excitement over the collaboration. Some people expressed their confidence that this collaboration would be a hit. Few requested @TMobile to open #TMoBell stores in #Seattle.
Some of the common hashtags used on #social media were #tmobell, #tmobiletuesdays, #tmobile, etc.