As competition in the #automotive industry sores, scaling new heights with #automobile #biggies is no longer enough. In addition to investing in new #tech and #innovations, auto giants are also expected to contribute to the common cause for a better tomorrow.
On 31st August 2019, Tesla became one of the few American automotive companies to announce leather-free #interiors for #cars. The company announced that it's Model 3 cars would have #LeatherFree interiors including the steering wheel. This #vegan surprise is in line with the commitment Elon Musk, co-founder and CEO at Tesla, made during the annual shareholder meeting of the company.
As expected, the tweet from the official handle of Tesla making the announcement went viral.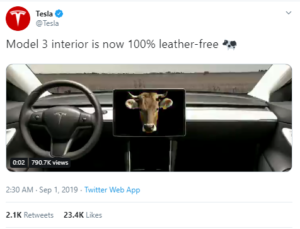 Within no time, the tweet had garnered a whopping 814,253 engagement. The announcement also triggered 2k+ conversations on social media.
Our analysis of the conversation showed that people appreciated the brand's effort and applauded the feel of the new #CowFriendly steering wheel. They supported the #new leather-free model of #Tesla and appreciated the brand's #innovation skills and its #endeavors to swear by the path of #animalprotection and #animalwelfare. However, a few did mention that #PETA, who also holds a few shares in the company, pressurizing Tesla to follow a manufacturing model free of animal derived products was pointless.
Gender Analysis of Social Media Conversations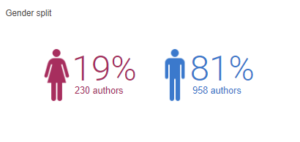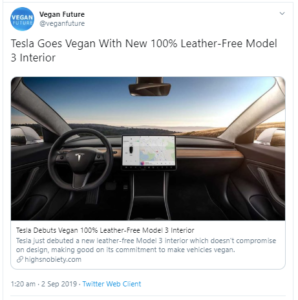 Our gender analysis of the #socialmedia conversations threw up some interesting patterns. The #analysis revealed that men were more excited and vocal about Tesla going leather-free. Men contributed to 81% of the chatter while women accounted for a meagre 19%.
TechCrunch happened to be the virality driver for the #news. Another important #influencer for the news turned out to be Vegan Future, a blog dedicated to raising awareness about #health and promotes #veganism. Their tweet about Tesla's leather-free model also earned good traction.
Taking cue from the #F&B industry, a few industry experts made interesting suggestions like Tesla coming up with #impossibleleather, something similar to Burger King's #ImpossibleBurger.
A deeper analysis of the social media chatter, further revealed that the common themes of conversations revolved around:
Cost comparisons between #synthetic #leather and the original one
Personal preferences of people when it comes to choosing car interiors
Comfort of natural vegetal fabric compared to a plastic or polyurethane seat
Recyclability of cars also seemed to be an idea that caught people's attention. Some shared that only 40% of the plastic content in the car is #recycled and a good step forward would be to use a single type of #plastic to increase #recycle possibilities.
#Automotive industry has made conscious efforts to reduce carbon footprint and contribute to a sustainable environment. Tesla's leather-free interiors will further guide the efforts of the industry that seems to be committed to bringing a positive change.