Xbox, Microsoft's video gaming brand, rung in good news for the gaming community, as it announced the inception of its next-gen console, the Xbox E3 2019 at a recent press conference. The latest gaming console, which is planned to be released during the Holiday season of 2020, is speculated to be named 'Scarlett' for the time being. Microsoft, without giving away too many details about their #latest gaming hardware, spoke about the #incredible #specs and capabilities, it would have.
Social media dwellers were seen expressing their excitement over the launch of the next generation gaming hardware. The announcement of #Scarlett led to a surge in conversation volumes, in the order of more than 30K conversations, within a very short span of time.
A large number of people shared their excitement to try out the new Xbox console. Industry experts shared the features of the new gaming hardware like custom-designed processor based on AMD's Zen 2 technology, GDDR6 memory, and other #improved features such as resolution and frame rates capability, making project Scarlett "four times more powerful than the Xbox One."
Emoji Cloud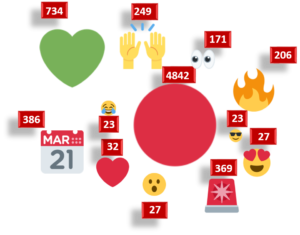 A few also spoke about the #tech features of Xbox such as 8K visuals, accelerated ray-tracing, supporting variable framerates of up to 120FPS, elimination of load time, and lots more.
Comparisons were also made between the features of Scarlett and other Xbox consoles. Enthusiasts discussed the pros and cons of the new console on social media.
Twitter was the most used social media platform for discussions of the Scarlett launch. A large number of audience shared the official announcement video of Xbox through Twitter.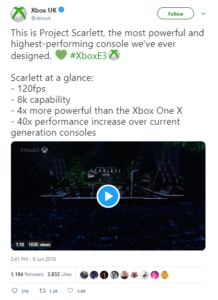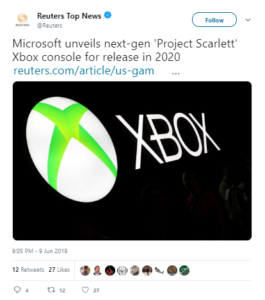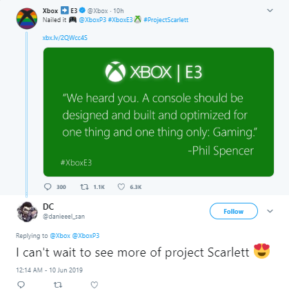 Major news outlets like, Reuters (@Reuters), TechCrunch (@TechCrunch), GameSpot (@GameSpot), etc. brought attention to this piece which, thereafter, picked up steam.  The news outlets saw more active engagement.