Emmy awards, popularly known as 'Emmys' is an annual awards ceremony that celebrates excellence in the world of television. Emmys is held at various times throughout the year, recognizing various segments of the #teleindustry. But it is the Emmy #Primetime awards that has gained widespread popularity over time.
So, it was beyond doubt, that on the occasion of the 71st Primetime Emmy Awards, Twitter would be flooded with numerous #socialmedia conversations. The conversation volumes assumed a humongous number of 627K, since it was staged on September 22, at the #MicrosoftTheater in downtown #LosAngeles, #California. The broadcast rights for the most-awaited #teleawards this year, lay with the #US Fox broadcasting company.
Stakeholder Discussion
Stakeholders like celebrities, official handles of top web series, media-service providers were seen sharing their excitement, and congratulating the winners.
Jharrel Jerome (@JharrelJerome), the actor of 'When They See Us', famous for his role as Korey Wise, drew around 15% of the total conversations. A video shared by Variety, about this #TV #celeb has garnered around 7M views, 18.7K retweets, 40.6K Likes. Other top magazines, TV handles, celebrities like MEFeater Magazine, The A.V. Club , When They See Us, Karen Civil, Jemele Hill were also seen congratulating and appreciating Jharrel Jerome, for his performance.
Peter Dinklage (@Peter_Dinklage), who played one of the most #cherished characters from George R.R. Martin's #telesaga, #GOT, was flooded with #congratulatory messages (10% of the total conversations) all over social media, for receiving Emmy Awards for Stunning Performance in the limited edition web series under the category of supporting actor.
Zendaya (@Zendaya), the American actress turned singer, who also was a #winner at the #Emmys, caught the attention of social dwellers, who were found conversing around her #stunning #sheer emerald green corset gown. Fans were seen comparing her look with #DCComics character, Poison Ivy and Ariel.
People were seen sharing the nominee list, list of winners for the different categories, names of lead and supporting actors' from #favorite #series etc. Celebrity appearance at the event was also another topic which set the conversations rolling.
Top Twitter Buzz Drivers

Our social media analysis identified top industry magazines, official handles of web series, and celebrities to be the Virality Drivers for the story. The likes of Variety, Hollywood Reporter, Television Academy, Jharrel Jerome, Game of Thrones were the top tweeters for this event. Congratulatory messages, videos, and the updates of the event were also shared real-time by these entities, which added to the excitement of the social media dwellers.
Gender Demographics
Our Gender Demographic Analysis revealed an interesting insight. Traditionally when it comes to #entertainment and #telecontent, they are seen to resonate more or less the same amongst both the genders. But with the Emmys, it seems like a new pattern of #socialengagement has emerged.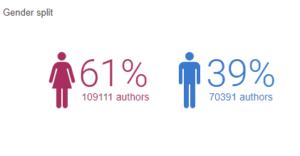 Women were found dominating the conversations (61%) as compared to men (39%). This trend could well be attributed to the fact that men are more interested in entertainment & sports and not just #entertainment. However, it is pretty early to predict whether this is a veritable trend, something that could be used as an industry benchmark, or it might still be early days into analyzing this #ambivalent behavior within the #entertainmentindustry.
Women were found mostly voicing their opinion about #JharrelJerome, #JodieComer, #LeadActors, #WebSeries, #ComedySeries etc. Men, on the other hand, were seen speaking more about #GOT, #BillHader, Phoebe Waller-Bridge, #Zendaya, #JharrelJerome, etc.
Trending Hashtags
#Emmys, #Emmys2019, #WhenTheySeeUs, #GOT were few of the trending hashtags.
Overall, the Emmy awards event turned out to be a successful one and generated higher social media traction. While the awards did side with heavyweight shows like GoT, they did not shy away from recognizing the brilliance of Phoebe Waller-Bridge's Fleabag. It wouldn't be wrong to say that it was a British dominance at Emmy this year!