Amazon is set to introduce the all-new #Alexa powered #wireless #earbuds. The earbuds will also be geared with fitness-oriented features. The launch of the device is anticipated to be the #next #bigthing within the #healthtech and #wearables industry. The new #product will also mark the brand's entry into #personal #healthandfitness devices market.
It is speculated that the device would be launched on September 25th, 2019 at an event in #Seattle which is to be hosted by #Amazon. It will be launched along with a variety of other Alexa-enabled products including #new #Echo and #FireTV devices.
#Socialmedia has garnered huge volumes around the upcoming launch of Amazon's new wireless earbuds. Twitter, following the regular pattern, has emerged as the most dominant channel where we have seen conversations from various stakeholders like industry experts and #customers.
Voice of Customer Analysis
Our #VoC #Analysis revealed the following to be the #mosttalkedabout topics surrounding Amazon's (@Amazon) latest launch.
Experts opined that the launch of new Alexa wireless earbuds with built-in #fitness #tracking mechanism would throw a legitimate challenge to competitors like Apple and Samsung.
Posts around the launch of #bigger #Echo with better sounds were also seen.
Speculative conversations regarding the release date of the new #loaded devices of Amazon were seen, as no official announcement was made by the #brand.
Experts also spoke about the various capabilities of #upcoming Echo, especially object recognition feature to help users that are blind or have low vision.
Tech experts like Christina Farr, Mark Gurman, and few publications like TechCrunch, Mashable, CNBC were seen sharing articles around the same through their social media handles.
Few doctors were also seen speaking about the launch of the fitness product, which falls under the #digital and #personalhealth category.
Top Tweets Analysis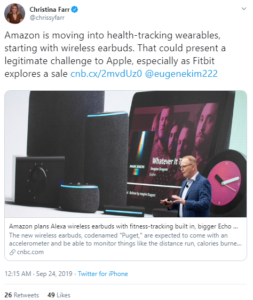 Source: Twitter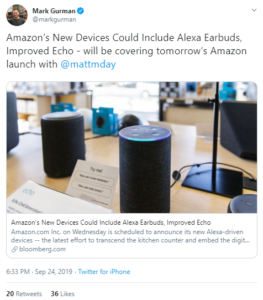 Source: Twitter
Source: Twitter
An analysis of the top tweets exposed a general #trend. People, irrespective of their professional tying and background, were very excited to hear about the latest product launches by Amazon.
Gender Demographics
Our Gender Demographic Analysis revealed an interesting insight. With regards to the brand's new product launch story, men (59%) and women (41%) recorded conversations within the same range.
Gender Breakdown

This largely speaks about the brand's popularity amongst both the genders. The fact that the new earbud had #healthcare feature tied to it is also weighed in while analyzing the near similar conversation volumes of men and women.
Trending Hashtags
Our social media analysis further revealed that #Alexa, #Amazon, #Echo, #Fitness, #VoiceFirst, #DigitalHealth, #FitnessTracking, #wearables, #AI, #IoT, #mhealth, #Healthtech, #Healthcare were few of the trending hashtags associated with the upcoming launch by Amazon, which is expected to be their first launch in the #wearables segment.
Overall, Amazon's Alexa powered Earbuds have led to an increased excitement in the entire digital and #healthcare industry as they are expecting to hear the official announcement from the Seattle based tech giant.