As soon as Apple convened its #big #hardware #event for 2019 at the Steve Jobs Theater in Cupertino, California, US on September 10, 2019, it became a hot topic of discussion on #socialmedia. The highlights of the event were #iPhone11, #iPhone11Pro, and #iPhone11ProMax. Other announcements included, Watch Series 5 and 7th #gen #iPad, #AppleTV etc.
Apple's event titled, "By innovation only" fired up the social media with nearly 1M+ conversations in less than 24 hours of the event.
The Voice of Customer Analysis of the #gala #tech event by #Apple revealed that it was the #live broadcasting facility on #Youtube and Apple's official website, that got people talking. Some were quick to point out that the live #streaming of the event added to their #excitement and #anticipation of new #product launches by the brand. Some pointed out that this was the first time that Apple was streaming its product announcement through YouTube and its own website simultaneously. People were sharing links of websites that would allow others to watch Apple's big event, live.
The analysis further revealed that the iPhone 11 series was the most discussed product in social media. People talked about the special #features of iPhone 11, iPhone 11 Pro and iPhone 11 Pro Max. Some expressed their eagerness to own a new iPhone 11 whereas some discussed the distinguishing features of iPhone from the rest of the series. A few shared their review about the new iPhone 11 series.
The most talked about themes of iPhone 11 turned out to be:
LCD Display
Dual rear cameras
A13 Bionic chipset
When it came to iPhone 11 Pro, the major discussions revolved around:
Triple rear #cameras setup of 12-megapixel wide angle lens, 12-megapixel #telephoto lens and 12-megapixel ultra #wideangle lens
"Deep Fusion" – a new #machinelearning feature that shoots 9 images before the shutter button is pressed, and a long exposure when it is pressed
Glass body with a matte finish and stainless steel band
'Midnight Green' color, including #space gray, silver, and a new gold
Two screen sizes of 5.8-inch and 6.5-inch OLED Super Retina #displays
Spatial audio, #Dolby Vision and #Atmos, and HDR 10 support
Price
Battery life
After iPhone 11, it was the Apple Watch Series 5 which caught the imagination of tech enthusiasts, followed by 7th gen iPad.
The discussions of #AppleWatch Series 5 revolved around:
On Retina display
18-hour #batterylife
Compass app
Emergency SOS
Local emergency calling by pressing on the side button
Available colors
Price
Watch models like, #Titanium, #Nike, #Hermes etc.
The major discussion themes for 7th gen #iPad were:
2-inch Retina display
A10 fusion chip
Smart connector
UI, multi-tasking, video editing tools
Tweet from Apple's (@Apple) official handle, announcing the features of iPhone 11 Pro, garnered a total engagement rate of more than 2.7 Million.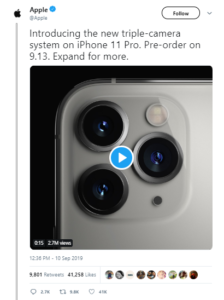 Source: Twitter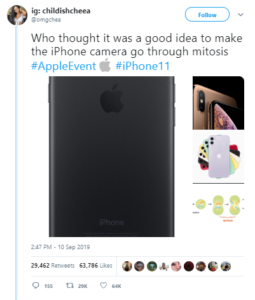 Source: Twitter
Geographic Distribution of Conversations
Our geographic breakdown of the conversations shows that US accounted for 87% of the total social media chatter. This was followed by #India, #UK, and #Thailand. Other nations like, #Nigeria, #Malaysia, #Canada, #SouthAfrica, etc. cumulatively accounted for 5K conversations, thus highlighting a nearly global reach of the news.
Geographic Analysis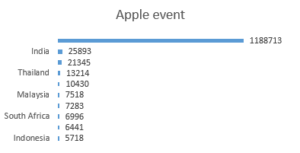 #appleevent, #iphone11, #iphone11pro, #iphone11promax, #appeevent2019, etc. emerged as the most popular hashtags.
Hike in the conversation volumes were recorded around 12PM and 5PM America/New York UTC-04:00 time.
Timeline of Social Media Conversations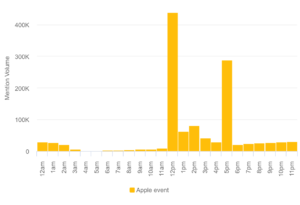 Top authors and news portals who drove virality around the news include Mashable, WIRED, TechCrunch, 9GAG, Forbes, TIME, etc.
Virality Tracking

Gender Analysis
Our gender analysis revealed that men contributed more (58%) to discussions around this topic as compared to women (42%). This is in accordance to the usual norm, where tech news and podcasts are found to be more popular with men than with women.
Gender Breakdown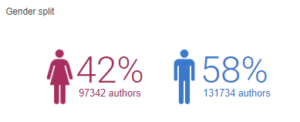 It wouldn't be an exaggeration to say that Apple Events turned out to be a massive success. As long as it continued, the event held the audience captive with its launch announcements being streamed live on YouTube and official website. The social media space reverberated with the echo of the applause the event earned.