#Technology industry, one of the most #dynamic #industry of present day, is characterized by new and emerging #gadgets that are being released frequently. Beats, a subsidiary of Apple Inc focused on producing high end #audio products, has launched a new on-ear headphones, under the Solo Pro series with #noise #cancellation feature.
Beats' new Solo Pro on-ear headphones are prized at $299.95 in the #US and will be released on October 30th, across the country. The company considers #SoloPro a #nextgen product, whose workings are amplified by the integration of features from the already popular, wireless #Powerbeats Pro headsets.
The launch announcement had a ripple effect on #socialmedia which recorded huge volumes of conversations since announcement. Noise cancellation was the most discussed feature of the #new #headsets.
VoC Analysis
Our #VoiceOfCustomer #analysis found that the audience was very excited about the new #earphone. The themes that were popularly discussed were:
Noise cancellation feature
Price & Release date
Pre ordering of the earphone
Design and color
22 Hours playback battery life etc.
Many were found mentioning that they have already preordered the headsets. Some were excited about the various color options that the product offers. A few shared that they liked the advanced features of Solo Pro. Some stated that they were planning to buy the product as soon as possible. A few asked whether it was a Chinese product. Some #tech experts compared the features of Solo Pro to that of #Apple #Airpods.
Popular #NBA #player, James Harden's tweet about the Beats headsets went viral and created a great deal of excitement for the product.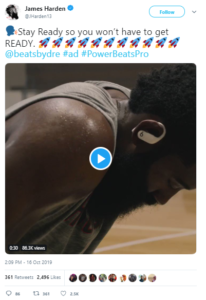 Source: Twitter
Gender Demographics
Our demographic analysis revealed the usual trend with tech news and associated conversational patterns on social media.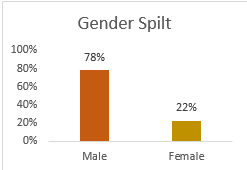 Men contributed 78% to the social media chatter whereas women contributed only 22% to the #socialmedia conversation volume.
Interest and Professions of Top Authors
Social media analysis into the personal interests and habitual inclinations of unique authors revealed that people from Sports background (16%) and Technology lovers were the most enthusiastic about the Beats Solo Pro headphones.
Interest & Profession Breakdown of Buzz Creators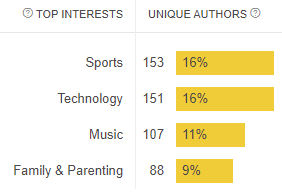 Top professions who contributed to the social media chatter included Artists (26%), Executives (21%), Journalists (13%) etc.
Trending Hashtags
Our social media analysis revealed that #Powerbeatspro, #beatsolopro, #solopro etc were the trending hashtags around the story.