On Tuesday, October 8th, Boeing, the #aircraft manufacturer, announced that it has entered into a strategic #partnership with Richard Branson's space travel company, Virgin Galactic, to fund the #ambitious endeavors of transporting enthusiastic passengers through space. The #business #consort is believed to give a boost to Branson's vision of helping in the development of superior #technologies that would make movement through space a reality for many. The deal is confirmed at $20 million in Virgin Galactic, through its venture capital arm, HorizonX Venture, which owns stakes in frontier tech startups in areas such as 3D printing and #drones.
No doubt, the #spaceresearch #collaboration, though commercially motivated, threw the #socialmedia space in a topsy-turvy situation with conversation volumes swelling by every passing hour.
VoC Analysis
Our #VoiceofCustomer #Analysis identified the following trends in the social media discussions:
Collective excitement and a sense of rejoicing pervaded in the digital space
Few opined and requested for extra leg space facility in the future aircraft
People showed excitement for hypersonic speed travel offer by Boeing
Many opined that the partnership marks beginning of a new era of space travel
Some quoted Richard Branson as a 'true visionary'
Social Media Announcement By The Two Brands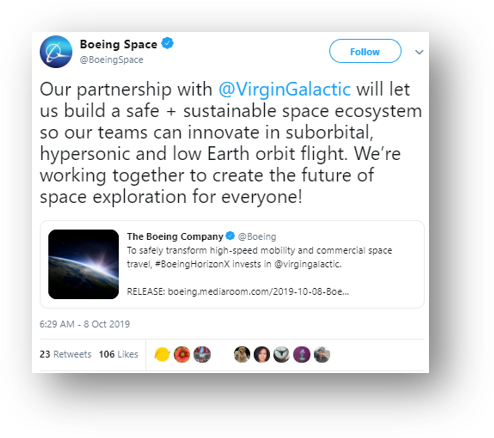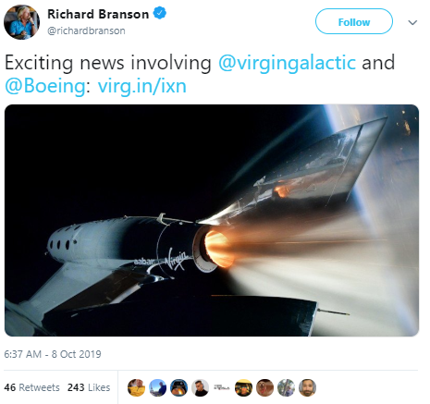 Audience Demographics: Gender Conversation Split

Our gender demographic analysis revealed that men (70%) were more vocal about the Boeing-Virgin Galactic partnership on social media than women (30%). Men were interested about details like the legroom, speed, travel time, etc.
Interest Analysis
It was observed that Business (18%) and Technology savvy people (14%) had greater proportions of excitement and were seen to contribute the most to social media conversations on this news. Their excitement to experience #hypersonic #speed #travel was palpable.
Interest of Buzz Drivers

Popular Authors
Tech news portals like @CNBC, @ForbesTech, @Reuters, etc. were identified to be the key Virality Drivers, creating buzz around this particular newsbreak.
Virality Drivers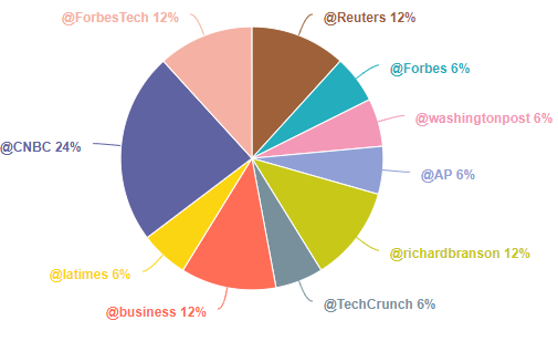 Trending Hashtags
Diving deeper into the social media analysis of the story, #boeing, #virgingalactic, #boeinghorizonx, #aerospace, etc. emerged as the most used hashtags. People used these hashtags to voice their thoughts across social media.
For more than half a century, Boeing has played a pivotal role in USA's human spaceflight programs. Back in the days, Boeing was the one that built NASA's Saturn V moon rocket. Today, Boeing is currently NASA's prime contractor for International Space Station. So, investing in a partnership that would make space travel a reality for larger number of people seems to be a natural progression for Boeing. This partnership also reflects Boeing's commitment to making new and environmentally responsible transportation modes accessible to larger #customer base.