It all began through a quaint evening dinner between two friends in Paraguay, back in 1958. The friendly dinner gave birth to the World Friendship Crusade, an organization that endeavors to #promote and #commemorate the bond of #friendship. Today, #InternationalFriendshipDay is an opportunity to not only recognize this #special association between two people but also to celebrate it.
International #FriendshipDay has always been a major draw amongst the #socialmedia community. From the last weekend of July, the topic began to roll into motion across various #online platforms. The conversation volumes surged on the last two days of July, recording a peak of 212K. From all over the globe, people expressed their emotions for their #friends and #families.
A feast for the eye was the #UNICEF post, containing a video of the popular #Korean #boyband #BTS with whom they have collaborated. The post garnered a humongous 148K retweets and 276K likes. People were retweeting the UNICEF post and also spreading the message of respect, support, and kindness.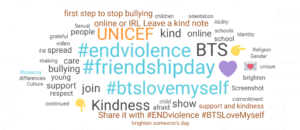 #internationaldayoffriendship, #friendshipday, #endvoilence, #friends, etc. were some of the most used hashtags.