Chick-fil-A, an American fast food restaurant chain, specializing in chicken sandwiches, is reportedly looking into the possibility of adding vegan options and meat substitutes, to their menu. The cow mascot that's been asking people to 'eat more chikin' since inception, seems to be bitten by the 'diversification' bug. Hence, the brand is reportedly eyeing an inclusion of vegan options.
The news of Chick-fil-A, planning to add plant-based vegan substitutes in its menu, sparked volumes of more than 400+ conversations within a span of 24hrs from the time of announcement. A large number of social media users expressed their excitement over the vegan options. A few were seen recommending their friends to try out #Chick-fil-A's upcoming #vegan fare. Industry insiders revealed that currently, the fast-food brand has chalked up a relatively short menu, as compared to other fast-food chains.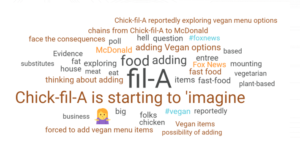 The news picked up speed when people retweeted the post, shared by online publications like CNBC (@CNBC), Business Insider (@businessinsider), New York Post (@nypost), etc. A few people opined that they would watch with interest how the traditionally chicken-staple fast food chain will fare with a new plant-based meat substitute. The other trending topic to emerge across various social media platforms was fast food chains across the globe going into plant-based food and meat substitutes.
There were also tweets that mentioned how other brands like Del Taco, Burger King, and Red Robin have already treaded along the vegan path and rolled out meat-free options across the US, through partnerships with Beyond Meat and Impossible Foods. Some were also quick to point out McDonald's very recent roll-out of vegan burgers, internationally.