Google Fi, an MVNO (Mobile Virtual Network Operator) project initiative, which started its journey in 2015, through #Google's Phone #Nexus, has evolved with time. It has synced itself with the changing consumer aspirations. Thus, when Google announced the launch of #GoogleFi #UnlimitedPlan on September 17th, the world of #socialmedia was left shaken and stirred!
As the brand promises, if you are a frequent traveler, then Google Fi liberates you from the hassles of maintaining #multiple connections. The #brand has come up with a #new #unlimited offer, with a single connection at $70/month. This new feature is only available from the US to 50 countries/territories, while unlimited texting like data is available in 200 destinations.
Social media saw a frenzied spike in conversation volumes, with users mostly being ecstatic about the new #telecom venture by #Google. Some were seen speaking about the utilitarian side of the new product. Having access to boundless data both in one's own country as well as when traveling overseas seems to have been a need in today's day and age.
The 'no setup requirement' when arriving at a new country, is another aspect that struck gold with consumers on social media. Another benefit of Google Fi is that it comes with no contracts and one can cancel it anytime. The feature also has zero #activation fees which was again appreciated far and wide, across various #social platforms.
VoC Analysis
Our Voice of Customer Analysis identified the following trends in social media discussions:
Google Fi unlimited plan launch
Few discussed about the price of monthly and yearly packages
People showed interest in accessing the internet plans
People questioned if Google Fi can be used to replace their home internet
People were making product suggestions to Google
Google's Unlimited plan also includes free international calling
Voice of Customer on Social Media




Audience Demographics
Our gender conversation demographics hinted at the usual trend, associated with #tech and #telecom news. The males (86%) contributed higher volumes to social media conversation and females (14%) contributed less.
Gender Breakdown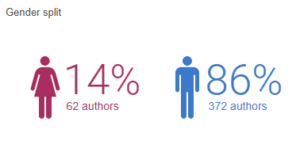 While men were talking mostly about the details like storage, deals, service, monthly charges, etc., females were discussing about the international calling facility, data limits, etc.
Conversation Wheel for Each Gender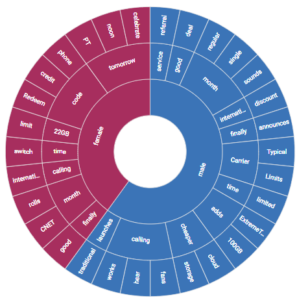 Interest Analysis
While mapping and analyzing the interest of people, we observed that people with #tech inclinations contributed the most to social media conversations. This was followed by those with backgrounds in Business, Family & Parenting, respectively.
Interest of Buzz Drivers

Trending Hashtags:
#googlefi, #pixel3, #googlefiunlimited, #unlimitedplan, etc. were found to be the most used hashtags pertaining to the story.
Conversation Wheel
A closer look at the conversation wheel revealed that women were mostly engaging with topics like advantages of adopting a -based and appreciating the recent initiative by . Men were mostly retweeting and sharing the news in social media.
Interest Analysis
Our analysis shows that people with interest in Food & Drinks (16%) were the most vocal about Nestle's new offering. This was closely followed by people having inclinations for Animals & Pets (13%), Beauty/Health & Fitness (12%)respectively.
Virality Drivers
Vegan and plant based advocates like , , , etc. were among the top authors driving around the Nestle's vegan initiative story.
Trending Hashtags
Our social media analysis revealed that , were among the most popular hashtags used around the story.
Plant based products – especially burgers – have recently emerged as a new category in the F&B industry. We recently studied this emerging category and came out with a consumer insights report. In this report, we analyzed the stakeholder actions, the real game changers of the industry, changing customer perception, market sentiment, and more. Our report revealed that alternative meat has certainly found market's acceptance. We identified the customer segments that would drive growth in this category and how businesses can realign themselves to the changing customer preferences.
Contact Us for the full report.