Dunkin' Donuts in collaboration with Beyond Meat announced the launch of plant-based sausage sandwiches, in order to reach out to a wider audience, after a successful test in Manhattan in July. Looking at the response, the brand has decided to expand the availability of #BeyondMeat #breakfast #sandwich across 9,000 US stores starting from November 6.
The brand's foray into #PlantMased meat products set the #socialmedia in hyperactive mode. Twitter was the most popular platform used by netizens followed by blogs and forums.
VoC Analysis
Our #VoiceofCustomer Analysis identified the following discussion patterns:
#Foodies were excited about the #BeyondSausage Sandwich and shared the news with their friends and peers.
Stakeholders replied to the posts of #BeyondMeat and @DunkinDonuts expressing their eagerness to taste the new product from #Dunkin stores.
Few people enquired about the specific locations in their city where the new product will be available.
Posts made by @CNN, @GoodFoodInst, @BeyondMeat, @Business garnered huge engagement on social media.
Experts opined that the plant based #food war is heating up.
Industry insiders opined that this was Dunkin's strategy to capitalize on growing #customer interest in plant-based #proteins, after the overwhelming response they received from #NewYork customers.
People also discussed about plant-based products by other brands like Burger King.
Recurring Themes in Social Media Conversations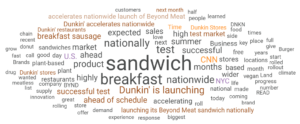 Our social media #analysis identified the above topics as the key conversation drivers on #socialmedia. After the announcement was made by Dunkin' on October 21, within no time, fans of both Dunkin' and Beyond Meat started sharing the news across various online social platforms. Customers also spoke about the initial launch of Beyond Meat sandwich in New York and its success. "Sandwich", "Breakfast", "Nationwide", "Dunkin' is launching" etc., were some of the recurring themes found on social media.
Geographic Spread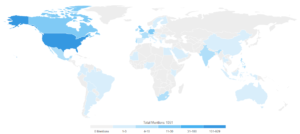 Since the launch is going to be made in the United States, needless to say, a majority of the social media conversations originated from the #US. This was followed by Canada and parts of South America, #India, #China and some European countries respectively.
Gender Analysis
In our gender analysis, men emerged as the top conversation drivers with around 57% share of voice, while women had 43% share of voice.

Men were speaking about the upcoming launch of #BeyondMeatSandwich in #UnitedStates, Dunkin' leveraging the current customer preference of plant-based #protein, becoming relevant to the #millennial audience, etc.
Women shared their excitement of tasting the #meatless #sausage breakfast sandwich at Dunkin' stores. They also discussed about being #vegan, the #plantbasedrevolution getting more prominent.
Trending Hashtags
#BeyondMeat, #Sausage, #Dunkin, #Plantbased, #Beyondsausage, #Vegan, #Sandwich were few trending hashtags in social media after the announcement by Dunkin'.
Plant-based protein products have dominated the product #innovation space in #F&B and quick service restaurant industry. So how is this emerging segment of #altmeat products shaping up? Read our category analysis report on plant-based meat. In the report, we provide insights on stakeholder discussions, sentiment analysis, customer segment analysis, growth strategies, etc.
Plant Based Meat
Consumer Insights | Social Media Research
Download Now