Japanese #videogame developer, publisher, and distribution company, Square Enix shall soon be recreating the 1997 electronic game #classic, Final Fantasy VII (@FinalFantasy) for the PS4 platform, with brand new visuals, improved user interface and a completely different style of gameplay.
#FinalFantasy VII remake will be released in an episodic format. This means that the players won't be able to experience the full story, when the first episode drops on March 3, 2020. The remake has a completely new cast of voice actors, including one for the protagonist, Cloud Strife.
Popular Tweets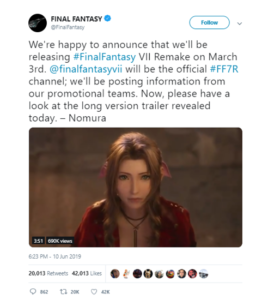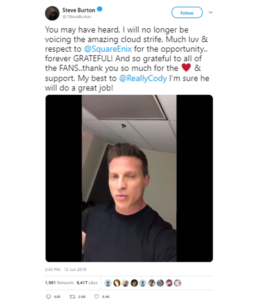 People thronged to #socialmedia to voice their excitement. Some expressed their eagerness to try out the #much #talked about game. Fans expressed their love towards #chief characters of the game like Cloud Strife, Nomura, Tifa, among others. People were eager to see how the characters will look in the #remake. Some were curious to find out how the story unravels in the #newgame. PS4 loyalists were thrilled, to say the least. Some gamers, on the other hand, were discussing the compatibility of the game with Xbox and Play Station versions. Some commented that it will feature the best on #PlayStation #exclusive.
The most notable change in this remake is that of the character Cloud Strife, as it would see the departure of the previous voiceover for the character, previously done by Steve Burton. It's said that the remake will have the #Cloud Strife voice over done by Cody Christian. Many fans of Cloud Strife were seen getting sentimental over this news in social media space. Steve Burton (@1SteveBurton) officially posted a video on twitter that has garnered over 1,981 retweets and 8,417 likes.