#Google, on 5th August, pledged that it would neutralize #carbonemissions and include #recycled materials in all of its #MadeByGoogle products by 2022. #Pixelphones, Pixelbooks, #GoogleHome speakers, #Nest, phone cases and charging stands are the portfolios currently included in the overhaul list.
The industry giant's commitment to #sustainability saw a surge in conversation volumes of 2K within 24 hours. The brand's ambitious pledge to make shipments to or from customers 100% #carbonneutral by 2020,  threw the #socialmedia community into a good kind of frenzy.
People were praising the brand's #proenvironment inclinations. Accolades were also fetched by Google's Head of Sustainability for Hardware, Anna Meegan's blog, which outlined the company's goals for improving the #environmental impact of its products.
Trending Topics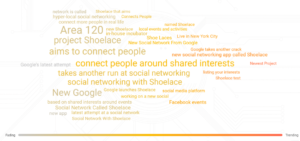 Sustainability experts lauded Google's #environmental endeavors and appreciated the 100% usage of recycled materials. Industrial experts discussed the technical possibilities of using recycled material in the products.
The #tech #corp's #ecofriendly commitments saw a positive response from the markets.