Google, the #global #tech giant, is planning to bring out a unique #social #networking #app called Shoelace that encourages people to do things in real life rather than connecting with others on the web through typical social networking platforms. As per the official notification, it is currently available only in #NewYorkCity and is in testing phase. Along with these geographical restrictions, the app is invite-only right now, and has partnered with select communities.
Page Types Over Time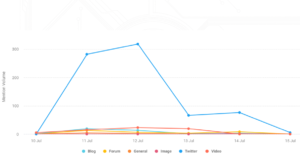 The new #announcement created substantial #socialmedia buzz, with 800+ conversations being recorded in a jiffy. Twitter dominantly led the discussions. People were seen waiting eagerly for the app. "Google will be taking on Facebook events with the new app" was a #popular #opinion. A few questioned Shoelace's striking #similarity to Schemer, another experimental event organizing app from @Google, launched in 2011. People mostly appreciated the new initiative by Google and recommended it to their friends.
Trending Topics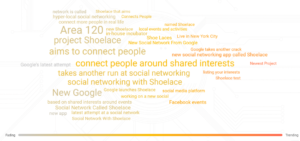 Industry experts spoke about the uniqueness that the new app would bring to the social media domain. Tech Publications like TechCrunch (@TechCrunch), The Verge (@verge), Android Central (@androidcentral), Gadgets 360 (@Gadgets360) etc. shared the news, thereby adding to the excitement around the story.