Gastronomes have a lot to cheer for heading into this weekend, as #ImpossibleFoods would make its way to neighborhood grocery stores, starting this Friday. The #alternate #meat maker plans to hit all 27 of Gelson's Markets in #Southern #California, including the ones in #SanDiego and #LosAngeles. The Silicon Valley based #meat #substitute producer, Impossible Foods, also revealed about its plans to make the bio-engineered #meat available in #grocery stores throughout the country by mid-2020.
The news of easy availability of Impossible Food products led to considerable #socialmedia chatter. #Vegan dieters and advocates of #veganism were thrilled to know that the #plantbased alternate meat would now be readily available at a #Gelson's market near them.
VoC Analysis
Our Voice of Customer Analysis identified the following trends in social media discussions:
#Foodies were excited to visit the grocery stores and try the #burger
Few were thanking Impossible Foods for launching their delicious #meatless burger in the grocery stores
Some people were also seen guiding others over the locations were the plant-based meat burger was available
Voice of Customer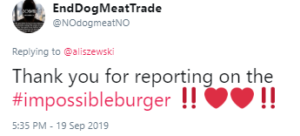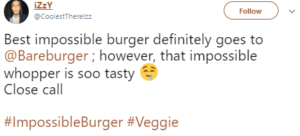 The brand's tie-up with #BurgerKing was a topic that had recurrent mentions. The popularity of its vegan meat is already known as it has an integral association with #ImpossibleWhooper.
Virality Drivers
@Forbes, @CNBC, @businessinsider, @engadget, @voxdotcom, etc. were some of the top news agencies which drove virality around this news.
Breakdown of Social Media Buzz Drivers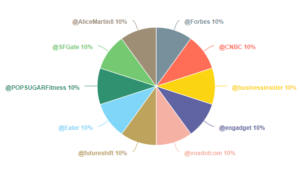 Trending Hashtags
Our social media analysis revealed that #impossibleburger, #beyondmeat, #plantbasedmeat, #vegan, #burger, etc. were some of the most popular hashtags used by people when discussing the news.
Popular Hashtags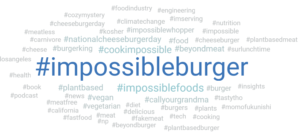 A healthy diet in today's world goes hand-in-hand with staying fit. A whole body of medical researches, over the last few decades, has hinted that the animal-sourced protein may not be all that good for humans. Thus, plant-based meat seems to have become a lifestyle of choice. This #lifestyle also aligns itself with the kind of healthy lifestyle philosophies followed by the #millennials.