KFC has announced a new addition to its menu, the Mac and Cheese Bowl, starting from August 26. The bowls will combine #macandcheese with the chain's #popular #popcornchicken.
The announcement threw #socialmedia into a frenzy, driving 1.2K discussions within the first 2 days. #Foodies shared their excitement around the #new #launch. Peer recommendations to try out the Mac and Cheese bowl were also afloat.
The first break out of the news was done by KTVU FOX 2 post which hashtags like #KFC, #kfchicken, etc. started trending. While women mostly drove conversations under brand-specific topics like 'KFC Mac and Cheese', men were found chatting about the qualitative aspect of the new bowl and about its 'finger lickin goodness'.
Gender Breakdown Popular Hashtags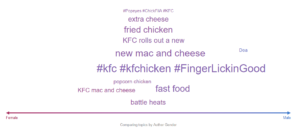 Our sentiment analysis showed that people were quite expressive when it came to different aspects of the product. Positive sentiments were mostly associated with topics of burger, chicken, mac, and outlets. For burger, people used terms like happy and read to express a positive feeling. Similarly, the chicken was applauded with terms like delicious and love. See our Sentiment Wheel for more insights on this.
Sentiment Analysis Wheel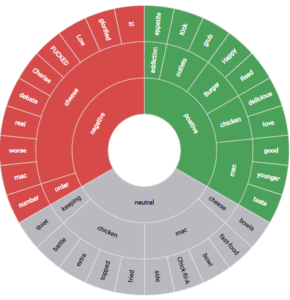 Conjectures were made from various opinionated quarters that the #KFC Mac and Cheese would give #tough #competition to other #fastfood chain restaurants.