In this age of #globalwarming and #climatechange, multinational corporations across the world are consciously embarking on endeavors that would help mitigate, if not reverse, the process of global climate change. As a part of similar efforts, #Danish toymaker, Lego is looking to keep its plastic bricks out of the trash and repurpose or reuse them.
The toymaker is trying out a process that would enable customers to ship their #unwanted #old #used #toybricks back. In turn, the #Europe based enterprise would arrange to giveaway these toys to the less fortunate #kids. The company announced on October 8th that #customers in the #US can print out a mailing label on its site, dump their used #Lego bricks in a box, and ship them off for free. Lego said, if successful, it may expand the program beyond the US in the upcoming years.
#Socialmedia witnessed sizeable volumes of conversation around this #new initiative by the #traditional #plastic #toymaker. Many welcomed the move by the #Denmark based enterprise, stating further that it can be seen as an effort to give something back to the society, thereby setting an industry #benchmark in terms of #CSR endeavors for #multinationals.
VoC Analysis
Our #VoiceofCustomer #Analysis identified the following trends in the social media discussions:
Social media users admired the initiative
Many expressed that this was the best news they have read in the current year
Some took a different stand and stated that #Lego toys being expensive, they would like to pass them on to their #future generations
Audience Demographics
Our gender-based analysis hinted at a different than usual social media behavior. Usually, it is the men who dominate the discussions across various social platforms, be it news pertaining to any sector. But, surprisingly, the generous initiative by Lego saw women (59%) taking to social media more than men (41%) to voice their opinion.
Gender Breakdown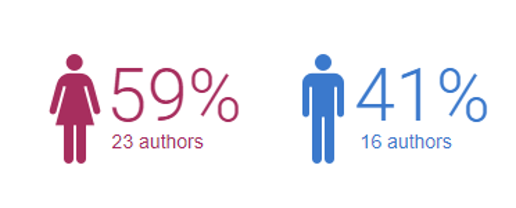 Digging deeper, it was revealed that women were mostly found discussing about 'Lego Plastic Bricks', 'Lego Replay', and other similar topics.
Interest Analysis
Interest of top authors were Family & Parenting (16%), Books (14%), Sports (11%) respectively. They were very excited to be able to be a part of this #recycling initiative by Lego by contributing their old toys to the company.
Trending Hashtags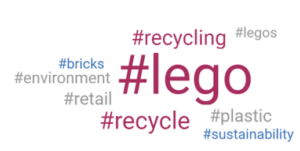 Our social media analysis found #lego, #recycle, #plastic, #sustainability, #retail, #bricks, #environment, etc., to be some of the most used hashtag, surrounding the news.
The increasing concern displayed by people from all walks of life towards #climatechange and its impact on human life has made enterprises push harder towards sustainable business initiatives. The massive turnout at recent global climate strike led by teenage environmental activists like #GretaThunberg has proven that customers are becoming increasingly aware of use of plastic and climate change. The voice of climate change activists is not going unheard anymore. People are actively seeking to ban #singleuseplastic.
Businesses who want to stay relevant to the #customers of the future need to explore how they can contribute to fighting the global climate crisis. Lego's initiative is aligned to the changing customer expectations and their perception of a responsible brand.