Associations and collaborations have become the latest success mantra. Following this trend, #SanFrancisco based delivery service, DoorDash on September 30, 2019 announced that it would mark its expanded #nationwide #partnership with #McDonald's by offering #customers one million Big Mac sandwiches for only 1 cent each, plus fees. The #promooffer, which began on Monday, will run through Friday, October 4. Customers are required to enter the code 1MBIGMAC at checkout. However, the code has only one time use per customer.
#Socialmedia was instantly flooded with conversations, as people voiced their opinion about the #exciting offer by #Doordash in association with McDonald's.
VoC Analysis
Our #VoiceofCustomer #Analysis identified the following trends in social media discussions:
People were excited about the fact that they could get BigMac for 1 penny.
People asked whether DoorDash would charge for its delivery.
Some people were also found asking whether the promotional offer was valid for other countries as well.
Voice of Customers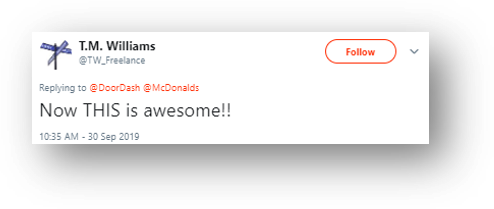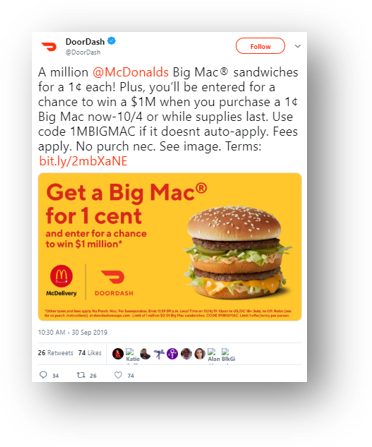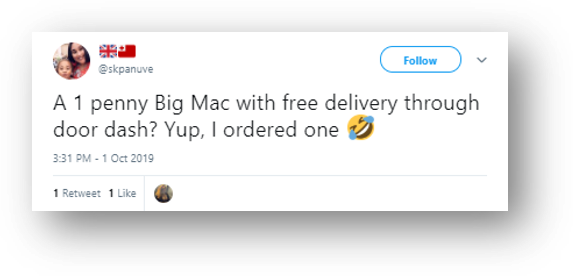 Demographic Analysis
It was observed that people who had interest in Family & Parenting contributed the most to social media conversations around this news. This was closely followed by people who had interest in Business, Music, Food & Drinks respectively.
Interest Analysis of Buzz Drivers

Trending Hashtags

Some of the trending hashtags around the Doordash-McD story were #1centbigmac, #doordash, #mcdonalds.
This isn't the first time DoorDash and McDonald's are coming together with interesting offers. Earlier they joined forces in July with 200 restaurants in Houston. They plan to scale this collaboration and expand to more locations by the end of 2019.
================================================================
Keywords
McD, McDonald's, Doordash, on-stop delivery service e, online food delivery services, Doordash and McD, Doordash and McDonald's, Doordash & McD, Doordash & McDonald's, offer, deal, promotion, promotional, doordash promo code , doordash mcdonalds promo, doordash august 2019 promo code, mcdonalds doordash, San Francisco, McD San Francisco, mcdonalds doordash code, mcdonalds doordash big mac, mcdonalds doordash big mac 1 cent, doordash big mac 1 cent, doordash big mac McD 1 cent, Is McDonalds on DoorDash, Does McDonalds deliver with DoorDash
================================================================
Short Description
Voice of customer revealed excitement for the McDonald's – DoorDash collaboration.
Family & Parenting turned out to be the top interest of buzz drivers.
#doordash and #mcdonalds emerged as the most used hashtags in discussions around this story.