July 29 is one of those days that gets #foodies across the US excited. Why? Because it marks the #NationalChickenWingDay. It's the day when gastronomes wait, with baited breath, to lay their hands on their favorite #snackable #treat – the #chickenwings. The already popular #fingerfood is rehashed and #reinvented for the day, to tingle the taste buds of food lovers.
National Chicken Wing Day deals by restaurants blazed through the #socialmedia like a wildfire, accounting for more than 23K discussions. Foodies were sharing their #Chickenwingday experience. Peer recommendations to try out chicken wings on the #wingsday were also afloat.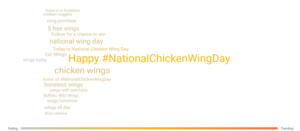 Discussions around #favorite chicken wing dips and grubs complementing the dish were noted in large numbers. Chicken wings wrapped in #cheese was the most preferred combination. A few were advising their peers to use #promocodes announced by certain restaurants to avail free wings. Culinary experts and celebrity chefs added to the festive mood by sharing simple ways of making #chicken wings. Some spoke about their plans to visit their #fav #eatery to try out the #fingerfood.
#NationalChickenWingDay, #ChickenWings, #ChickenWingDay, #foodie etc. were some of the most used hashtags.