#Netflix plans to tickle #nostalgia as it ropes in acclaimed director, Kevin Smith, to churn out the tale of He-Man and the Greyskull. The announcement of the new #anime #web #series, "Masters of the Universe: Revelation", came as a surprise, at the annual Power-Con convention held in #California.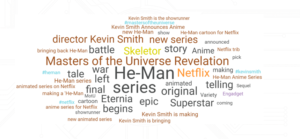 The announcement raged through #socialmedia like a wildfire, leading up to 3.2K discussions in just 2 days.
#heman, #MastersOfficial, #Skeletor, #matersoftheuniverse, #kevinsmith, etc. were some of the commonly used hashtags.
Netizens brought it to notice that this #webseries installment will not be a spin-off of the 80's #cartoon show but would be a seamless continuation of the previously unresolved storyline of the #classic.  People were remembering the #villain of the series #Skeletor. Others spoke about their eagerness to watch the epic battle #He-Man and Skeletor.
Some were also seen speculating about the #stunning #visuals that the #upcoming #web adaptation would have. Reference to the omnipotent #Powersword also made it to the #trending social media #conversation #topics.