Robinhood is an online platform known for offering commission-free trading on many US-listed types of investments. Robinhood app gives access to unlimited commission-free stock, ETF, and options trades. It offers individual brokerage accounts of the users.
In 2018, it also added cryptocurrency trading, which includes all major currencies like Bitcoin, Ethereum, Dogecoin, and Litecoin. This became one of the major attraction for the company. It also lets users buy stocks for short-term trading on this platform.
Robinhood's commission-free options trading comes with a notable perk: no per-contract fees and also margin trading with Robinhood Gold. The plus point for this platform is that it has the functionality of an expensive conventional brokerage platform but without any of the cost. The company has raised $2.2 billion in funding, according to Crunchbase.
With all these possibilities and investment options, Robinhood had 13 million users, as of 2020. There was a major outrage amongst people when the platform experienced another major outage late Thursday in the U.S, which appeared to be a troubling sign for its customers.
It halted trading as it says that "Like others, we were experiencing an unprecedented demand for Robinhood Crypto services, which created issues with crypto trading. We've resolved the issue and apologize for the inconvenience," a recent Twitter post said. Also saying that Crypto trading is now fully restored. But it happened again!
Robinhood App Outage: Social Trends
We're currently experiencing issues with crypto trading. We're working to resolve this as soon as possible. For the latest updates, check https://t.co/hS5J5eu1GV.

— Robinhood (@RobinhoodApp) April 16, 2021
A few hours later, Robinhood is struggling again, the app is "experiencing issues", for the second day in a row. Earlier in the day, Robinhood posted on Twitter saying that its crypto trading is facing issues and they will have resolved soon. And in some time, Twitter was blown up by tweets from people posting their issues they were facing on the Robinhood app.
Some are not able to continue buying and selling and others are not able to get access to it.
It seems to be a tough day for Robinhood app – commission-free trading as crypto service suffered an outage, not once but twice in a day. Many people are outraged on social media as they are seeing errors on the app when they want to use it for buying or trading. They are frustrated with Robinhood as it had put a hold on their transactions, especially when they see a huge rise in Dogecoin.
Robinhood App Outage: Sentiment Analysis
N=68
Our social media analysis revealed that negative sentiment (38%) is surpassing the positive sentiment (12%) by people on social media. While 50% of the conversations were neutral. People who have their accounts were restricted to trade when the app went down. They are frustrated as they are on the verge of losing their invested money.
Robinhood is garnering a lot of negativity because of the recent issues, which may bring a bad impact on the company.
Robinhood App Outage: Gender & Age Demographics
N=68K
The under-40 set is more affected by cryptocurrency trading experiencing issues in the free trading Robinhood app as this is one of the best options for commission-free trades. The COVID-19 lockdown has persuaded many new investors to open accounts in stocks and funds or cryptocurrency trading.
Near about, 53% of people on social media posting about the brokerage app are between the age of 25-24, followed by 18-24 with nearing 34%.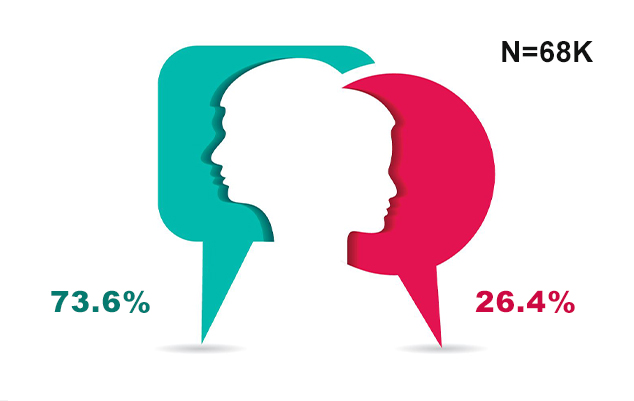 The huge difference in the number of conversations between males and females shows that men are more likely to talk about trading and stocks than women. From our analysis, it is found that nearly 74% of posting are from males and only 26% are from females. Maybe, Robinhood wants more female investors.
Robinhood App Outage: Theme Analysis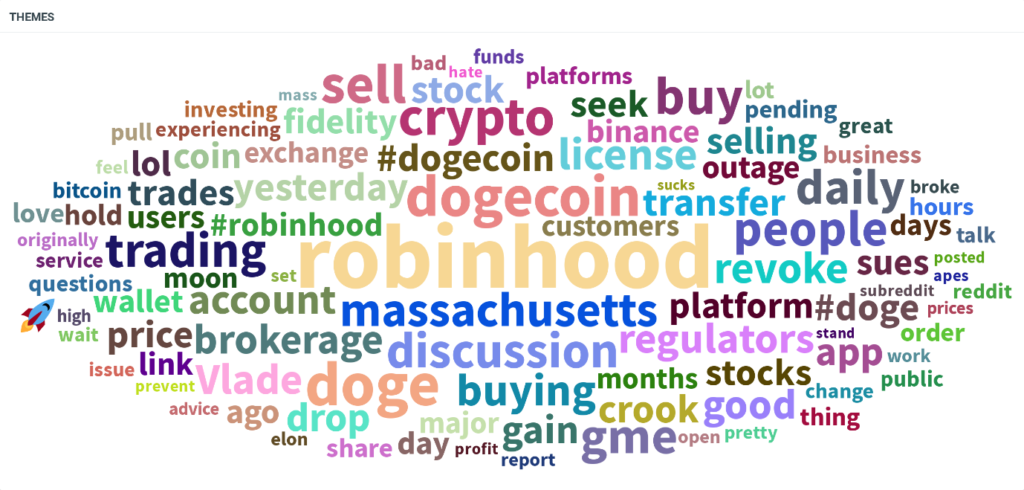 As the big news was out, Robinhood and Dogecoin were the most talked about topics on social media. We also see, binance, Robinhood's competitor coming up in conversations. This can likely be a favorable situation for binance.