A few months after rolling out the music sharing feature for Facebook and Instagram Stories, Spotify on September 9 enabled #music and #podcast sharing on #Snapchat as well. Integration with the Snapchat platform would allow users to take a snap of their activity on #Spotify – be it a snap of album covers, podcasts, #playlists, #artist profiles and so on – and share the same on Snapchat. The unification of the #multimedia messaging #app platform with Spotify would also allow people to send snaps to friends or post them directly to their Snapchat Story. The sharing mode is also very user-friendly as Snapchat users can simply swipe up and tap the context card which will then automatically open the Spotify app. The new #feature is planned to be launched in #iOS and #Android versions soon.
The Voice of Customer analysis revealed that the #socialmedia discussions revolved around the following topics:
The integration of Snapchat and Spotify
How the sharing works
Integration of Spotify with other platforms like, Facebook, Instagram etc.
Benefits of new music sharing feature
Integration feature for iOS and Android devices
Experts opined that Spotify's #integration with Snapchat comes at a perfect time, especially since #rival outfits like Amazon Music are currently looking at consorting with Apple Music. Music enthusiasts were found labelling this new feature as 'cool' and some mentioned that this would provide Tik Tokkers, an #alternate #avenue to channelize their #creativity.
People also inquired about the #minimum play time Snapchat stories would have, which are posted using Spotify. A few mentioned that it's almost 2020, but still there is no #lyrics supporting feature in the #desktop app.
Virality Analysis
Our social media analysis of the story revealed that online news outfits like The Verge (@verge), and TechCrunch (@TechCrunch) turned out to be the virality drivers for the news.
Virality Drivers on Social Media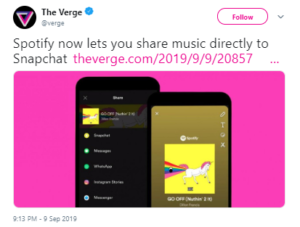 Source: Twitter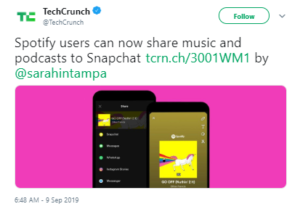 Source: Twitter
Sentiment Analysis
Sentiment analysis for the Spotify-Snapchat integration story threw up a very surprising insight. Almost no negative conversations (only 1%) were recorded around this news break. Conversations afloat in social media mostly carried a neutral tone.
Sentiment Analysis of Social Media Conversations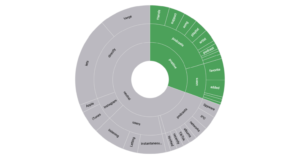 Within the sentiment wheel, 'Instagram', Apple', 'iTunes' etc., drove major portions of neutral conversations. Right after neutral sentiment, it was the whole array of positive conversations that characterized the sentiment spiral surrounding the news. 'Podcasts', 'Playlist', 'song' were among the positive conversation drivers.
Twitter emerged as the most popular #platform used by people to talk about the news.