The world of #socialmedia is constantly evolving. Even social media platforms are consistently exploring new ideas and models to win the race of #market share. This was proven when it came to light that #Instagram was working on Threads – a companion #app that would allow users to share location, speed, and batter life with a list of close friends. The app intends to promote constant and intimate connections between its users.
It was expected that social media would get fired up by this news. But what came as a real surprise was the #gender breakdown of the conversations. Our analysis showed that men were more excited by the possibility of Threads compared to women. While men contributed 67% to social chatter, women contributed only 33%.
Gender Analysis of Social Media Conversations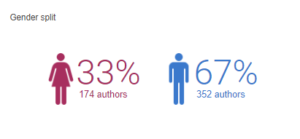 While there were all kinds of discussions noted around Threads, some of the things that had people excited were:
Intimate connect with closest friends
Auto sharing of status and location
Ability to share battery life
Real-time information with close friends
Our #customer segment #analysis of the chatter also displayed varying levels of enthusiasm based on the generation. #Millennials and #GenZ welcomed the news with great gung-ho. But the #boomers pointed out that it was clearly an app for the younger generation and no one wanted to know where the silent generation was or what they were doing.
Some industry experts rightly pointed out that Threads will be a virtual place where people can converse with their closest friends without any intrusion.
While there were many media outlets reporting on Threads, The Verge turned out to be the virality driver.
Virality Drivers for Instagram Threads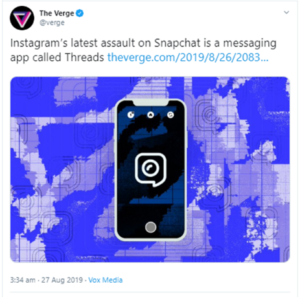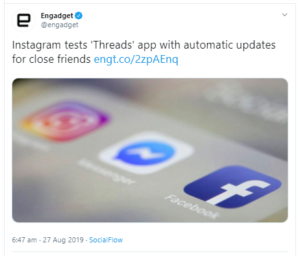 Location, speed, battery life, and photo emoji were the most common emojis used by people on Twitter to discuss about Threads.
Emoji Wall for Instagram Threads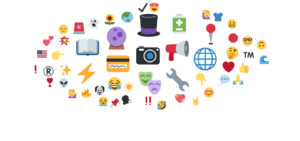 The global launch date for Threads has not been revealed yet. But the concept of Threads can be traced back to Direct, another app that Instagram was testing back in 2017. The idea of creating a messaging app around close #friends seems to be more likely to win.
Threads is also going to be Facebook's competition to Snapchat – another messaging app quite popular with millennials and Gen Z. While Snapchat and Instagram have always been competing, in 2019 this competition has become extremely fierce.
In 2019, Facebook had revealed that Instagram Stories had acquired 250 million daily active users – a number that put them ahead of #SnapchatStories. Then came the eMarketer report that stated that the Facebook and Snapchat usage time had hit a flat line, while Instagram continued to display an upward growth. The report revealed that Snapchat's users are expected to spend approximately 26 minutes per day on the app through 2021. However, Instagram users are expected to spend 27 minutes on the app, recording an increase of 1 minute. Threads would enable Instagram to further push these numbers higher and have more active user engagement.
While messaging apps have been pretty successful, they are geographical or generational in nature. The market outside the US is dominated by WhatsApp whereas the US market is divided between #iMessage, #Snapchat, #Messenger, #TikTok, etc. It will have to be seen how Threads makes its way through the crowded US market and establish supremacy. Instagram's strategy for introducing Threads to markets outside of the US will also have to be monitored closely.