Sticking to a plant-based diet could help lower #type2diabetes risk, a new study from Harvard T.H. Chan School of Public Health revealed. An anthropometric analysis of more than 300,000 people found that those whose diets were plant-source intensive were 23% less prone to the Type 2 form of the disease which is linked to #obesity.
The #research further explained that #vegan #diet improves sensitivity to #insulin. The #hormone that controls #bloodsugar and reduces weight gain propensities and helps in combating inflammation is boosted through a vegan diet. According to the study published in Jama Internal Medicine, it was found that the plant-based eating habits helped with Type 2 diabetes even more when only healthy plant-based foods such as #fruits, #vegetables, whole grains, legumes and #nuts are included in the daily diet, as opposed to refined grains, starches, and sugars.
The new findings by #Harvard triggered a lot of conversations on #socialmedia. People were seen sharing the findings of the study across various social platforms. A few recommended others to follow vegan diet in order to keep diabetes at bay. Some industry experts even classified the #unhealthy and #healthy vegan #food.
Page Types Over Time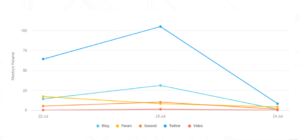 Needless to say, Harvard (@Harvard) studies have their own legacy and are mostly found to be highly credible.